Topic
Brest and Born argue that additionality is at the very heart of impact investing. They argue that "for an investment or non-monetary activity to have an impact, it must provide additionality—that is, it must increase the quantity or quality of the enterprise's social outcomes beyond what would otherwise have occurred." They further make the case that, in order to demonstrate additionality, it is useful to present counterfactual evidence "on what would have happened if a particular investment or activity had not occurred."

For their part, Bridges Ventures distinguishes between investor-level additionality, or the extent to which the investor was integral to the development or performance of the investment, and enterprise-level additionality, which involves the investment enabling the investee to deliver a greater or higher quality of outcome than without the investment.

Development finance institutions have been particularly concerned with additionality in their work, particularly when public funds are used to incentivize private capital to participate in development investments. However, in practice, DFIs have not done very well in demonstrating or reporting on their additionality. Some commentators have proposed a more expansive definition of additionality to facilitate the evaluation of all of the vectors of change that may be triggered by additionality.
Tool
Types of Additionality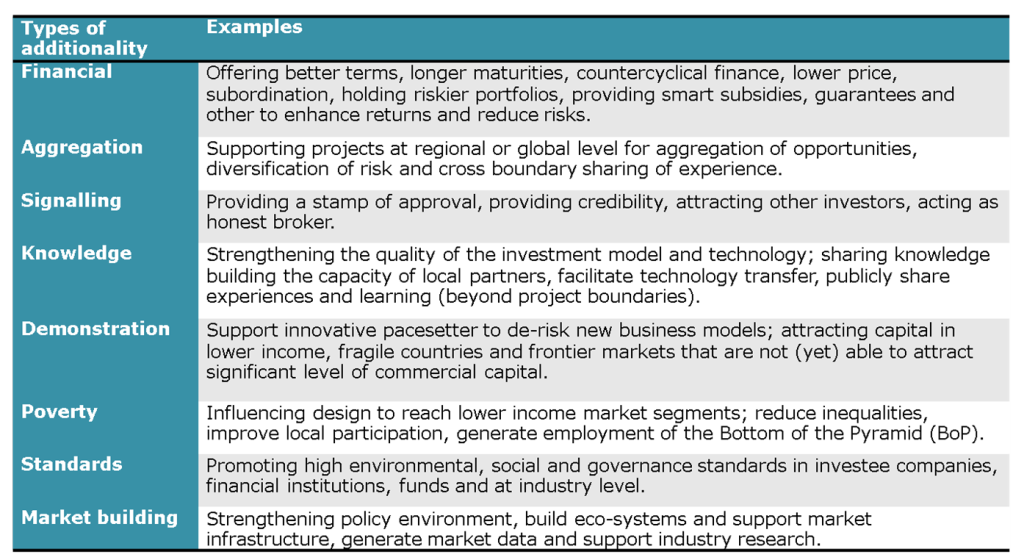 Source: Koenig and Jackson 2016, based on Mustapha et al 2014
Exercise
At your table, for 10 minutes, individually review the tool reproduced here. Then think about an impact investment fund or individual investment or investee that you have been involved with or with which you expect to be involved in the future. How would you propose to collect data to demonstrate additionality for any two of the types of additionality listed in the tool? More specifically, how would you approach the task of presenting counterfactual evidence to demonstrate additionality for the two types? What methods would you use? What conditions would need to be in place to permit this to happen? Organize and write down your responses in preparation for the plenary discussion on this topic.
Readings
Brest, P. and K. Born. Unpacking the Impact in Impact Investing, Stanford Social Innovation Review, 14, August, 2015, 4-5. http://ssir.org/articles/entry/unpacking_the_impact_in_impact_investing
Bridges Ventures. Investing for Impact: A Strategy of Choice for African Policymakers, Bridges Ventures and African Private Equity and Venture Capital Association, London, 2014.
Heinrich, M. Demonstrating Additionality in Private Sector Development Initiatives, Donor Committee on Enterprise Development, Oxford, 2014. http://www.enterprise-development.org/wp-content/uploads/DCED_Demonstrating-Additionality_final.pdf?id=2400
Koenig, A. and E.T. Jackson. Private Capital for Sustainable Development: Concepts, Issues and Options for Engagement in Impact Investing and Innovative Finance, Danida Evaluation Department, Copenhagen, 2016. See especially chapter 3 and Annex F. http://web.archive.org/web/20160814170448/http://um.dk:80/en/danida-en/results/eval/Eval_reports/evaluation-studies/publicationdisplaypage/?publicationID=E15693B2-6449-4AB1-A33A-BC8BE0067D42
Koh, H., A. Karamchandani and R. Katz. From Blueprint to Scale: The Case for Philanthropy in Impact Investing, Monitor Group and Acumen Fund, 2012. https://acumen.org/wp-content/uploads/2017/09/From-Blueprint-to-Scale-Case-for-Philanthropy-in-Impact-Investing_Full-report.pdf
Norfund. Evaluation of the Norwegian Investment Fund for Developing Countries, Norfund Report 1, Oslo, 2015. https://www.norfund.no/app/uploads/2020/02/Evaluation-of-the-Norwegian-Investment-Fund-for-Developing-Countries-1.pdf
Social Value. Aggregation of Impact: Does all this measurement add up? Social Value, 2016. http://www.socialvalueuk.org/resource/aggregation-of-impact-does-all-this-measurement-add-up/